By Joshua Long, Data Program Director
The Downtown Detroit Business Improvement Zone, in collaboration with Downtown Detroit Partnership, works hard daily to ensure our community is vibrant, clean, safe, and welcoming. The fruits of these efforts are particularly evident with the recent abundance of national-level events that have brought throngs of visitors to Downtown Detroit. By partnering with City officials and other planners, we create, curate, and maintain a world-class Downtown that is able to attract events, festivals, conventions, and more. Undoubtedly, the more this happens, the more growth the local economy experiences as more people come Downtown, spending money along the way at restaurants, hotels and enjoying our parks and public spaces. 
Big events create a lot of buzz for the entertainment venue, but their economic value to the community is just as important. Not much is communicated about the monetary impact, including where visitors go before and after the event. Taylor Swift, Morgan Wallen, Ed Sheeran, and Beyoncé performed sold-out shows at Ford Field in June and July, each in front of 55,000 to 65,000 fans. How did these concerts impact Downtown? Let's look at the numbers. 
Taylor Swift played two sold-out shows at Ford Field in June as part of her Eras tour, which has been setting records across the world. Together, both shows brought 118,661 patrons to Ford Field. These are remarkable numbers. With both shows topping 59,000 attendees, they ranked as the second- and third-largest draws in the venue's history. But the number of fans that descended on Downtown in total was five times was fivefold: data shows that on that Saturday, 330,000 people showed up just to be part of the experience.
Campus Martius Park and Cadillac Square Park saw 60% more visitors on the Friday of her show compared to the other Fridays in June. On the day of her Saturday show, Campus Martius had more than twice as many visitors as the average summer Saturday (110%), which was the largest number this year. More than 7,000 concert attendees visited Campus Martius Park on Friday and Saturday, which is about 6% of all the concert goers. A full 40% of the visitors to Campus Martius that Friday and Saturday were Downtown to see Taylor Swift. Whether they actually held tickets to the show or not, it is safe to assume many of those concertgoers also had something to eat, booked a hotel room and/or did some shopping.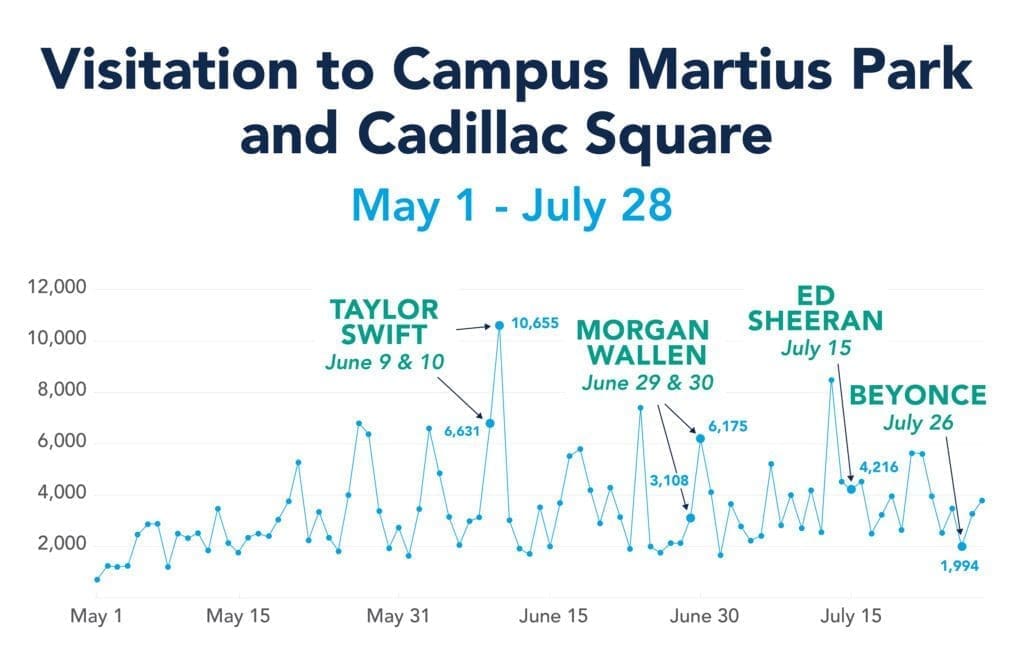 Country music star Morgan Wallen also performed two sold-out shows at Ford Field in June. On the day of his Thursday show, Campus Martius Park saw 25% more visitors than normal, and the park was up nearly 2,000. Nearly 35% of all the visitors to the park on that Saturday were there for Morgan Wallen.  
Ed Sheeran played a sold-out Ford Field show to nearly 60,000 fans on Saturday, July 15. Beyoncé entertained a sold-out audience at Ford Field on Wednesday, July 26. The rains on those weekends impacted the parks numbers but most likely not our businesses.
Consder this: If just 6% of Taylor Swift concertgoers spent $20 on food, that would add $140,000 to restaurants over two days. If that same group stayed at a hotel at the average daily rate for Downtown in June ($250), that equates to $1.75 million. The dollars don't stop there: parking, ride-share, souvenir vendors, bars, clubs and more all felt the economic impact. 
With the number of office workers Downtown still at about half of what they were pre-pandemic, along with the dollars that those workers used to spend, the return of these large live-audience events is a big boost to local businesses. Instead of viewing these shows through its entertainment value alone, we should consider how these big-name entertainers stimulate both the economy and employment.
The data in this blog is fully interactive and downloadable below. You will also find it, along with many other useful datasets, available for download from the Downtown Detroit Datascape.