Public health and safety.
Something so central to our daily lives. Something so central to the core of public service. Something that can cause endless debate and strong division in every community in every corner of the country.
Health and safety issues will always be top of mind in major urban areas; it doesn't matter if they are real or perceived. Perception is reality, and changing minds is hard work. There's not a major Downtown in the United States – probably worldwide – that doesn't list the health and safety of its citizens as one of, if not its number one priority.
In recent years the national conversation regarding the health and safety of our cities has evolved. Public officials have taken a strong stance on crime and mental health concerns. Data analytics help identify and target areas of concern. Greater efforts in community policing to build trust with residents and new training programs for police officers to better understand and respond to individuals who may be experiencing mental health crises are priorities. Additionally, coordination between the private, public, and philanthropic sectors addresses root causes such as lack of opportunities and access.
We benefit from a strong and committed public, private, and philanthropic community in Detroit. Our Mayor and Police Chief are proactively engaging in new and innovative ways to support a healthier and safer city. Just this week, the Mayor announced increased funding to support a community-based violence intervention (CVI) program to reduce crime and improve mental health response, which includes partnerships with community organizations.
But these efforts are not new, and DDP has been proactively responding to the needs of our community. One such example is a program called Project Lighthouse.
Project Lighthouse is a consortium of public- and private-sector partners working to improve the safety of residents, employees, and visitors in the Central Business District, Midtown, and throughout the city of Detroit. More than 15 years ago, Mike Bruggeman, DDP chief safety and security officer, and Rick Fenton, chief security officer for Ilitch Holdings, developed this program to create a network of safe havens throughout our Downtown.
It is a cooperative, coordinated business, security, and law enforcement partnership.
This little-known yet widely impactful initiative has moved the needle for Detroit and other Downtowns nationwide. In fact, last year, it was recognized as a national best practice by the U.S. Department of Homeland Security Private Sector Office.
Through this program, each participating business or location, known as a Lighthouse, has security personnel available 24 hours a day, seven days a week, to assist individuals. Help will be provided to anyone who is lost, has car trouble, or has other safety and/or health concerns. The objective is to provide shelter, aid, safety, information, and potential lodging for guests, visitors, and employees who need assistance.
Project Lighthouse can:
Assist with the needs of lost or distressed individuals.
Serve as a secure meeting place for friends.
Allow access to a phone and restrooms.
Assist with filing police reports with Detroit Police Department.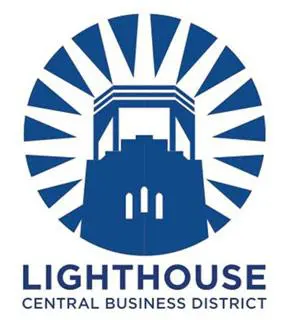 This Project Lighthouse logo identifies businesses, and all are considered safe havens.
And equally impactful is the recent addition of the Downtown Detroit Business Improvement Zone's Safety Outreach Specialist, Christine Szabo, who has already connected with more than 500 individuals needing housing or mental health services. Here again, we're leading the way in applying resources that are effective in helping our less fortunate population. Most of all, we are connecting and coordinating with the broader network of services and support, not creating redundancy but building off what is in place.
Together, these programs and others provide comfort and greater security for someone from out of town, a Downtown resident, or a visitor from near or far. And, very importantly, for existing businesses that need to better communicate with their teams and customers, measures are in place to address their concerns. Ultimately, we are working toward a safer Detroit.
Look for more on Project Lighthouse throughout the year. If you would like a listing of contact locations, participating businesses, or ways you can help expand this program, email [email protected], and we'll get back to you.