The Downtown Detroit Partnership partnered with the City of Detroit's Councilman Scott Benson, Alkebu-Lan Village, and the Charles H. Wright Museum of African-American History to debut the largest Kwanzaa Kinara in the world. This kickoff event took place on the first day of Kwanzaa, Dec. 26.
To commemorate this debut event, the Motor City Kwanzaa Celebration kicked-off at Beacon Park, at which Dr. Malauna Karenga spoke via livestream. Participants also enjoyed the African drum and dance group Nanou Djiapo, learned about the holiday's rich history from Jamon Jordan, City of Detroit's official historian; watched a live demonstration from Alkebu-Lan Warrior Martial Artists and shopped with local vendors.
"I have observed Kwanzaa annually for years and am happy to be part of the DDP Parks team to support all of the involved entities to bring this positive beacon to the heart of the city," said Njia Kai, DDP producer and representative. "Everyone is welcome to embrace Kwanzaa's principles, which are universal, and celebrate the lighting of the black candle signifying unity on Day One of Kwanzaa"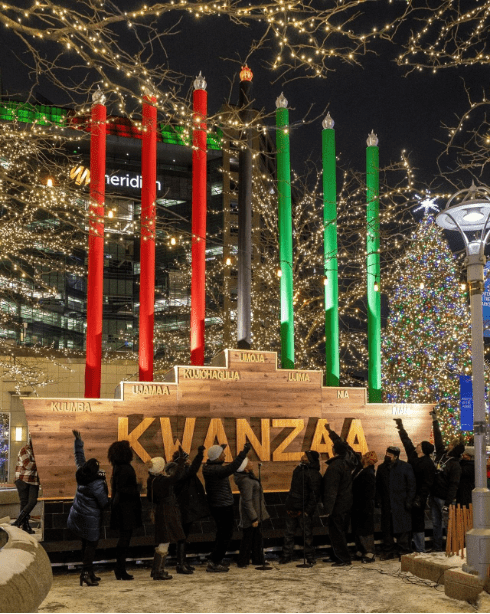 The Kwanzaa holiday was founded in 1966 by Karenga to honor the rich history of African and African American culture and traditions. It is celebrated annually for seven days Dec. 26-Jan. 1.
It is celebrated by lighting one candle on the kinara daily in recognition of the seven Kwanzaa principles: unity, self-determination, collective work and responsibility, cooperative economics, purpose, creativity and faith.
Following the celebration, attendees gathered at Campus Martius Park to light the first candle on the 35-foot-tall kinara. The candelabra was displayed for the entire seven-days, and built by an incredible team of Detroit craftsmen. 
The kinara lighting rounds out the winter holiday programs held at Campus Martius Park, which also features the Detroit Tree Lighting presented by DTE Foundation, Menorah in the D and the Salvation Army's World's Largest Red Kettle.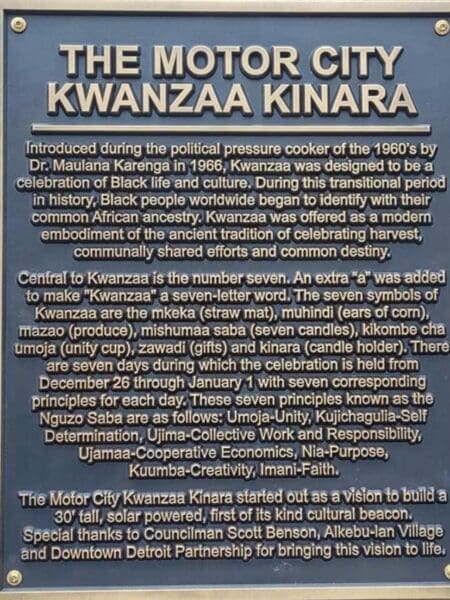 "We are proud to expand our Winter placemaking initiatives and to elevate wonderful partnerships and cultural events for all, like the inaugural Motor City Kwanzaa Celebration and Kinara Lighting," said David Cowan, DDP's chief public spaces officer. "Having events year-round that reflect our community builds upon our mission to create a clean, safe and welcoming Downtown for all to enjoy."
The inaugural Motor City Kwanzaa Celebration and Kinara Lighting was sponsored by The Wright Museum, Detroit Pistons, Target, McDonald's and the DTE Beacon Park Foundation.